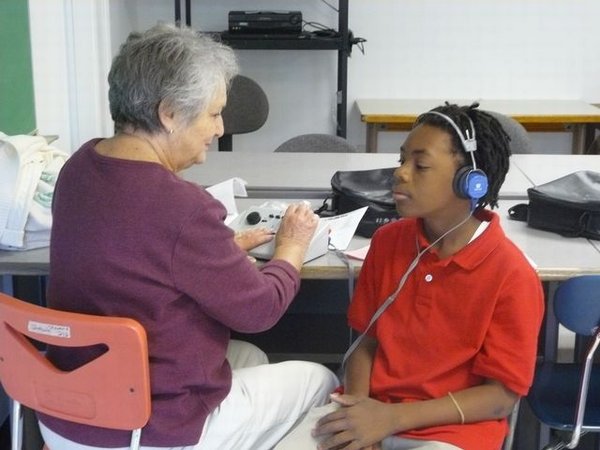 The Jennings School District holds annual student Health Fairs in each building. Through the efforts of the JSD Nurses, health fairs are scheduled, organized, and held at each of the eight school buildings.

During the Health Fair, students are screened for hearing, vision, height and weight, and blood pressure. Health vendors are also schedule to educate students about important health issues such as: making nutritional choices, proper tooth brushing and care, and general good hygiene and health.

Each year the health fair, helps us to identify students that have health related issues that need to be addressed. Our school nurse, Nurse Hopgood, follows up with families to get these needs met. It seems obvious, but students can't learn if they can't see or hear.

Students with more serious hidden health conditions such as high blood pressure have also been identified and referred back to their family physician for treatment. These issues if not treated can lead to, more than students not learning, but can result in illnesses that will worsen over time. Nurse Hopgood has numerous resource to assist families with where to go in getting these health concerns addressed.
If you have questions and/or concerns regarding your child's health fair findings, feel free to contact Nurse Hopgood. To see photos from our health fairs, check out our photo albums.
Contact
Nurse Chantez Hopgood
Phone: (314) 653-8190 @ Hanrahan and (314) 653-8175 @ Woodland